The Francophone Gymnastics Federation invites you to their annual Gala on Saturday, December 20th at Forest National.
The grand meeting will take place in Brussels for the second time. Join the world of gymnastics and fitness at Forest National on Saturday 20 December 2014.
Incredible show
The best worldwide gymnasts, acrobats and dancers are ready to give you a magical evening in Brussels!
Evening program: amazing shows combining both technical and athletic ability and a whole load of talent.
Constantin Corina, Bogati Andreea, Surdu Anca, Bianca Gorgovan, Becze Bianca, Laura Cristache and Ganea Denisa from Romania will be there for a great show.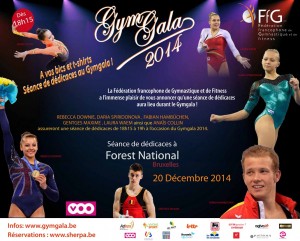 For more info: http://www.gymgala.be