Elite Gym Massilia will take place in Marseille (Palais des Sports) on the 14th, 15th and 16th of November.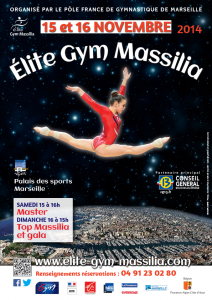 Schedule:
Friday – Open Team Finals  – 1:30pm to 3:00 pm and 3:30pm to 5:00pm
Saturday – Master Team Finals – 4:00pm to7:30pm       
Sunday – Event Finals and Closing ceremony –  3:00pm to 6:30 pm
Teams:
Russia: Daria  Spiridonova, Maria Paseka, Lilia Akhaimova,  Polina Fyodorova
ROMANIA: Alexandra Mihai, Olivia Cimpian, Dora Vulcan, Ioana Crisan
Italy:  Lara Mori, Giorgia Campana, Carlotta Ferlito, Sophia Bonistalli, 
Australia: Emma Nedov, Rianna Mizzen,  Georgia Godwin
Japan: Azumi Ishikura, Marina Kawasaki, Ayu Koike,  Sae Miyakawa
France: Youna Dufournet, Claire Martin,  Manon Cormoreche,  Louise Vanhille
Official Website: http://www.elite-gym-massilia.com
Good Luck! GO ROMANIA!