Dear friends,
Today I will speak with Dora Hegyi member of Hungarian Aerobic National Team. I will let her to tell us more…
I was born on the 10th of April, 1991 in Debrecen, Hungary. I entered the gym at the age of 4, to start some kind of gymnastics. Now I am a member of Hungarian Aerobic National Team since 2004. I am National Champion, World and European Champion in GR category in age group, bronze medalist on the European Championship in senior IW category.
How did you get into the gym?
My mother took me to the gym when I was kid, because I had horrible knock-kneed legs.  We started some basic steps in gymnastics and some years later in 1997-1998 our whole club started to change to aerobic gymnastics. That time aerobic gymnastics was very popular and successful in Hungary so my coaches decided to change to try something new. It seems it was a good decision; we have almost 200 kids now in our sport club, Flex Hungary Debrecen.
What are your memories from the time you first started gym?
I have no memories about my first time, I think I was too little  I only saw some funny videos by my coaches, Julianna Laurinyecz Kovácsné and Judit Kovács. They are like my second family, we are still working together.  I remember that I loved doing all the things we did in the gym and I loved staying in the gym and watch the "big ones". However I have a lot of memories from the time we started aerobic….specially that I broke many things at home ,because every evening instead of watching cartoons, I was watching videos, of big idols,  and tried to do the same things, with more or less success  😀
What was the competition you won your first medal? How did you feel?
We were competing a lot when we were little. The first big competition in FIG when we won our first medal was in 2004, Sofia (1st Age Group Competition) in group category.  I loved that time because that group was so special to me. We grew up together, shared a lot of unforgettable moments and won a lot of medals, specially that gold together.
What is the most important medal for you?
Good question….Maybe I couldn't choose it till last year, in November.  However my bronze medal in individual woman category on the European Championship is still an unbelievable thing for me. I made a little history in Hungarian aerobic gymnastics with that. This is the most important thing to me, not just because of the medal, but also seeing that everyone was so proud and said it was well deserved.
Are you happy with the results you had in 2013?
Maybe I couldn't be happier…2013 was a different year for me.  I got my first international medals in individual, went to the World Games and made finals again, I got a lot of nice words about my work and routines…what else do I need? I believe that hard work pays off, so those things were my hard work's "fruits".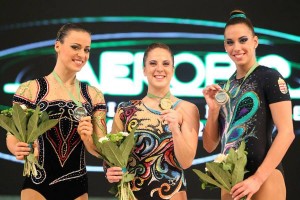 Your best competitional experience was….?
When we were competing in Colombia, at the World Games in front of 18.000 people with the girls who I love so much and loved to work with.
Who is your favorite gymnast from Romania?
I like Romanian artistic gymnastics a lot, but I choose my favs from aerobic of course .When I was little, Mihaela Pohoata's elegance and her movements amazed me when I saw her on the European Championship in my hometown in 2003. Another one of my favorites was Cristina Nedelcu.  I loved her energetic style, specially when she showed it perfectly with the music of Pink. That was WOW!
Who is your favorite gymnast from other country?
I respect a lot of gymnasts. When I was little I had a big idol, Jonatan Canada. I think everyone knows him. I was watching him from morning till night on videos Nowadays it's so hard to choose, because there are many gymnast with high qualities. I choose the Spanish mixed pair, Sara Moreno and Vicente Lli, because they are my perfect example for why I love Aerobic Gymnastics so much. They can show me how to make goosebumps on people's skin and how to do it from our heart together with our team mates.
I know you are working in fitness and with kids, how you make time for trainings and also for your job?
I am in lucky situation because I am working with my coaches to improve younger generation. When I don't have training, every afternoon and evening I am with them. So my job is what I really love I am a fitness instructor too, I have classes only in the morning, it is also a good physical preparation for me beside my trainings.
What are your goals for 2014?
First of all stay healthy Otherwise I have just one goal in every situation and competition, do my currently best! If I do then anything can happen in  "fair play" situation…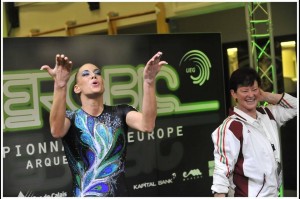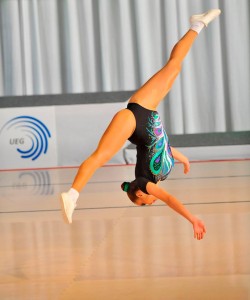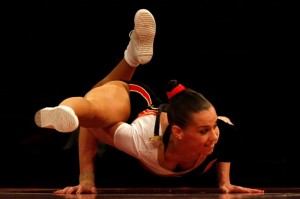 http://www.youtube.com/watch?v=BzzgdRkyomw
Special thanks to my contributor Carla Radulescu!
ENJOY,