Dear friends,
Today I have CATALINA PONOR here with me!
Catalina Ponor  is a Romanian Artistic Gymnast. She won three gold medals at the 2004 Summer Olympics , on balance beam, floor, and as part of the Romanian team. She also obtained a silver medal on floor and a bronze medal as part of the Romanian team at the 2012 Summer Olympics, as well as multiple World Championship and European Championship medals.
Let's get to the facts!
What are you now doing for a living?
I am co-designer for a leotards line created by Domyos-Decathlon (France) and whenever I have some spare time I help coaching Camelia Voinea's gymnastics team that represents Farul Club. I am also working on a new project but I'll talk more about that at the right time.
 Are you missing your coaches and the atmosphere in gym?
Always! Gymnastics has been and will always be my first love. I spent 21 years in the gymnastics hall and it's natural to miss it and also to miss the competition nerves and the coaches. Maybe at one point I'll get used to the idea that I'm not a gymnast anymore but I think I'll always miss it.
 You took quite a long break after Athen's Olympic Games. What brought you back to the gym and why for London's OG?
My wish was to take part to another Olympic Games Competition. I did try to come back for Beijing but it didn't happen because of injuries. When I came back in the training hall to get ready for London I promised myself I'd overcome any injury or any tough moment I might go trough only to be able to experience one more time those wonderful moments and feelings when you proudly represent your country. I knew not everyone is lucky enough to get to compete on an Olympic level and that motivated me even more to prove myself that if I really set my mind to do something I can do it.
 Which is your favorite medal?
National or international medal I cherish them all the same but I have to say that the one from the Athens OG, from the team finals is the most special one. The emotions and the happy tears that rolled down our faces when we found out that we became Olympic Champions cannot be compared with anything else. There are no words to describe that! Both us and the coaches worked tremendously for that success. For that I will always THANK my family, my teammates, the first coaches who have discovered me and the coaches from the Olympic Team.
 Tell me a little bit about your leotards range that you co-design for Domyos? Why them?
Apparently the saying "Be careful what you wish for 'cause it might happen.." is true. I've always wished for my own leotards collection but all of the sudden I got this text from Domyos asking me to start collaborating with them. We are still in the beginning phase of this partnership but our first collection is already in stores. It is a new challenge for me and both me and the rest of the team are trying to come up with something beautiful for our consumers.
 Any plans for the future?
I have a lot of plans that I am working on and I promise I'll talk more about them whenever the timing will be right.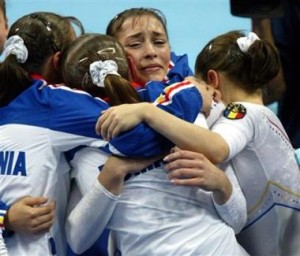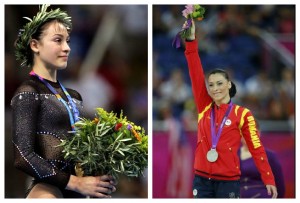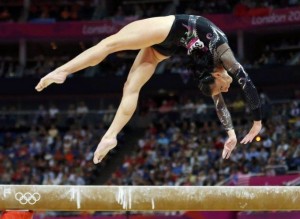 THANKS!
ENJOY,
L.A.