Dear friends,
This time I have next to me Bianca Maria Becze, multiple national, international and european champion in AEROBIC GYMNASTICS.
Bianca started gymnastics at 3-4 and now she is component of National Team of Aerobic Gymnastics. Last year she won no less than 12 medals: 9 GOLD, 3 SILVER!
How did you get into the gym?
When I was 3-4 years old, my mother took me with her at the gym, but with no intentions of becoming an elite gymnast. She just wanted to take care of me, since she was an artistic gymnastics coach at the "CSS Petrosani" club. At that age, the temptation of doing gymnastics was huge, and I started learning everything, by playing. As time passed by, things started to get more and more serious, and gymnastics hours weren't missing, from my everyday schedule.
After I learned basic things in the first seven years, doing artistic gymnastics, at the age of 11, I passed from artistic gymnastics, to aerobic gymnastics.
It was a really inspired choice, made by my mother and me, if I think about all the satisfactions I had from it, since now.
What are your memories from the time you first started sports?
I remember the gym from Petrosani, it was like my second home, since I was there, the most of the time during the day. I remember my first competition, when I had lost both of my gymnastics shoes, and with all the deductions I got, I still had the highest score. I remember every competition I had taken part, and the fact that, the person who was usually more nervous than me, was my mother. I remember that I always wanted to win medals, to be the best, and make it to the national team.
Everything that unites me with this sport, is a beautiful memory that is difficult to be forgotten.
What was the competition you won your first medal? How did you feel?
I won my first medal, at "Cupa Cetatiii Deva" competition, at my first participation in aerobic gymnastics. Although the competition was not so big, my surprise and my satisfaction were huge.
That medal, convinced me, that it was all worth it, and encouraged me to keep on going, and become the best.
What is the most important medal for you?
I can't say that a single medal is the most important to me, every year I won a medal that represents something more for me.
In 2013 I won the gold medal, in mixed pairs category, with Marius Petruse, at the World Games, that took place in Columbia. This gold medal, is the most important from my record, and there are many memories, regarding this medal.
It was for the first time, that a differentiation couldn't be made, and 4 gold medals were awarded, with myself and Marius, being among the happy ones. I will not forget, that things weren't really clear in the backstage, before the official standings were confirmed, and I will never forget the happiness that followed. I think that for the first time, everyone was happy.
Are you happy with the results you had in 2013?
 2013, was the most successful competitional year, since now.
I won 3 gold medals and 3 silver, just from the European Championship and the World Games. For the first time as a senior, I became national champion, in the individual category. I achieved everything that I wanted, and even more. Some time ago, I was just hoping of having some good results.
I couldn't have achieved all these things alone, my coaches and colleagues, played a really big role in everything I accomplished, and I really want to thank them.
What is the most difficult period of the year, regarding trainings?
The feeling that I mostly hate, is that when my muscles are sore, and everything hurts, and when I get back to training, after a small period of vacation, it's terrifying. I get back in shape really difficult, but I know my deficits, and I know that everything will find its way in time.
Personally, I believe that the most difficult trainings, are before big competitions, because the psychological part plays an important role.
Your best competitional experience was….?
World Games, that took place in Columbia.
It was the best atmosphere that an athlete can enjoy. There were 18000 spectators that simply took your breath away, just by being there. I had "goose bumps" when I competed.  Everything that happened there was simply beautiful…..emotions that I can hardly explain.
What are your goals for 2014?
As an athlete, I hope that 2014 will be a year, without injuries, so that I will be able to perform at my highest potential at every competition. The rest will come….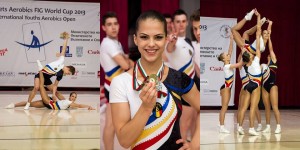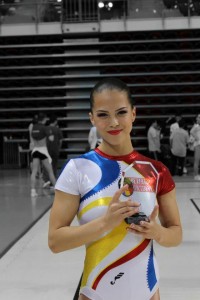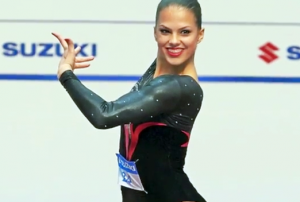 http://www.youtube.com/watch?v=7uyi68BOrUA
Special thanks to my contributor Carla Radulescu!
ENJOY,