Take it from FIG Aerobic Technical Committee President Mireille Ganzin: Aerobic gymnastics has come a long way since becoming an FIG discipline nearly 20 years ago.
On the occasion of the 13th World Aerobic Championships and World Age Group Competitionshappening in June 23-29 in Cancun (MEX), Ganzin is celebrating the discipline's progress. The 575 Aerobic gymnasts representing 42 nations in Cancun will be part of a historic event – 2014 marks the first time the World Aerobic Championships will be held on the American continent.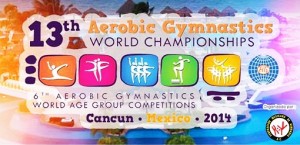 Q: So the objective is still to become an Olympic discipline?
Ganzin: "Yes. We are all working on that in order to improve the performance of the gymnasts, to make this sport more attractive and more amazing by introducing some acrobatic moves which also will allow more interesting lifts in the new code.
Some people are always comparing the performance between disciplines. Do we compare ski jumping with slalom or BMX races with cycling or swimming with synchronized swimming? These performances are all different. Some of them, like BMX or Half-Pipe, do not yet have a lot of history, but they are all included in the Olympic programme.
But of course, we're not Artistic Gymnastics. We don't do double backs and triple fulls, but the athletes are performing difficult skills and fast choreography without any pauses. Although we have the same gymnastics base, the discipline has its own identity. 
At the Winter Olympic Games in Sochi, (former IOC President) Jacques Roggé explained that the six new disciplines improved not only universality but also the parity between men and women, which we find in Aerobic as well. At the World Championships, we have as many male as female athletes from all continents. The seven gymnastics disciplines of FIG are all different but complementary. This is what makes all these disciplines interesting. Diversification is the most important thing for an international federation that wants to continue to attract many gymnasts, but also capture the attention of the public and the media.
It's complicated to make Aerobic an Olympic sport because gymnastics is already at the Olympics and gymnastics has its own traditions.  But we're putting a lot of hope in the first European Games, next year in 2015 in Baku (AZE). It will be the first time all six gymnastics disciplines, including Aerobic and Acrobatic, will be seen at the same multi-sporting event. Hopefully it will be the first step toward including all disciplines in a special format, creating something different and new from what we've seen for many years now. Unfortunately, if nothing changes, I am afraid that the Non-Olympic disciplines will disappear, which would be a disaster for the FIG, which would lose a lot of gymnasts."