Ieri am avut parte de un concurs de calificare al juniorilor foarte bun, Romania fiind in toate finalele europene.
Echipa de juniori a României a fost pe podiumul european al gimnasticii aerobice alături de Italia și Rusia. România si-a pastrat titlul de vicecampioană europeană cucerit acum doi ani, în Franța.
UEG: "Italy and Romania prove they are the Aerobics juniors to beat"
"On the first day of competition in Elvas, Italy and Romania divide the top spots during the junior qualification"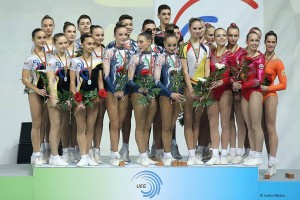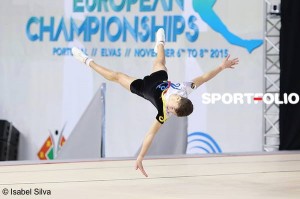 Ziua de sâmbătă este consacrată calificărilor seniorilor, la finalul acestora urmând a fi cunoscut și noul podium la echipe.

Ehipa Romaniei:
Seniori – Corina Constantin, Lavinia Panaete, Bianca Gorgovan, Lucian Săvulescu, Dacian Barna, Andreea Drenea, Andreea Darie, Roberta Dănescu, Alexandra Oprea, Denisa Ganea, Gabriel Bocser, Marian Brotei, Iulian Perse, Steliana Stoenescu
Juniori – Mihai Popa, Ștefan Huștea, Daciana Enache, Francesca Morar, Teodora Cucu, Andrada Zaman, Lorena Jinga, Ioana Gorgovan, Isabela Dumitrașcu, Sabina Crăciunescu
Antrenori  seniori– Maria Fumea, Mariana Mezei
Antenor juniori: Cristiana Spinu
Arbitre – Alina Drăgan (membră a CT / UEG), Cristina Dulgheroiu, Cristiana Spînu, Ramona Haidu
Asistent medical – Petra Teleman
Conducător delegație – Simona Amânar Tabără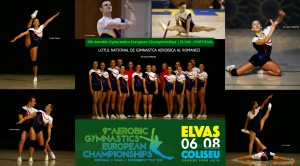 Sâmbătă, 7 noiembrie
14.30 – 14.45 Deschidere Oficială
14.45 – 17.00 Calificări seniori (IW / TR)
17.15 – 19.30 Calificări seniori (IM / MP / GR & AD / AS)
Duminică, 8 noiembrie
10.00 – 10.45 Finale Juniori (IW / IM)
11.15 – 12.30 Finale Juniori  (MP / TR / GR)
15.30 – 16.15 Finale Seniori (IW / IM)
16.35 – 17.55 Finale Seniori (MP / TR / GR & AD / AS)
Aici puteti vedea rezultatele sportivilor, transmisiune live va fi doar in finale.
http://liveresults.sytes.net/eurobics2015/