Dear friends,
Today I will talk with my friend Sara Moreno. She was born in Valencia/Spain 24 years ago. She started Rhythmic Gymnastics in 1997 and in 1998 she moved to Competitional Fitness, sport in which she became European Champion in 2003.
She started Aerobic Gymnastics in 2002.
 How did you get into the gym? 
I started doing gymnastics because I had problems with my feet and the doctor recommended me to start taking ballet classes or in Rhythmic Gymnastics. I chose Gymnastics!
What are your memories from the time you first started gymnastics? 
I was having a very good time with my friends when I was training, and I remember that I wasn't a very talented gymnast but I was very hardworking and I got to achieve my goals with a lot of work.
Which was the competition where you won your first medal? How did you feel?
 My first international medal in Aerobics was in France 2004, I won this competition and this made me very happy because I have never won an international competition before, it was a new feeling for me.
What is the most important medal for you? 
The most important medal for me is my medal in Individual Women, won in 2012 at the World Championships. I'm always training hard but in 2012 both my mental preparation and my body were in perfect shape.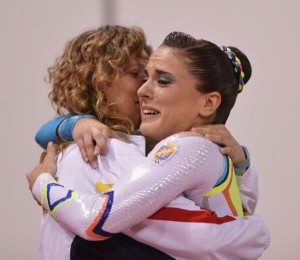 Are you happy with the results you had in 2013? 
Yes I´m happy with the results I had in 2013 because I got injured and it was very difficult to get back in shape after that, so in Cali and at the European Championships I got the best results this year. Psychologically I felt very week after my injury but the results helped me to get back on track even more powerful.
Your best competitional experience was….? 
I had my best competitional experience in Cali, because of the audience. There were 18000 people and I have never competed with so many people cheering for us before. I felt that a competition like that was the best thing that could happen to a gymnast.
Who is your favorite gymnast from Romania? 
From Romania I have two favorite gymnasts. In 2001 I was at the E.C. when I first saw Lacatus. I liked her powerful performances. That's when I saw Pohoata too and I liked her so much for her elegance. For me they are a part of the Aerobic Gymnastics' history and my favorite gymnasts from Romania. Even so I can't forget mentioning Corina, her jumps and flexibility are amazing!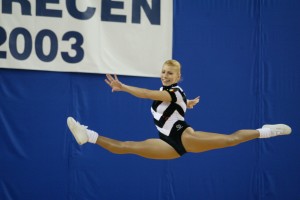 Who is your favorite gymnast from any other country?
There are a lot of gymnasts I can think of. Yuriko Ito from Japan, Kieran Gorman from Australia, Marcela Lopez from Brasil and Ana Maçanita from Portugal, were the best gymnasts in Aerobics for me, but nowadays my favorite gymnast is Dora Hegyi (she is my friend but I didn't chose her for this reason), she loves Aerobics and she lives every moment in her routine therefor everybody enjoys watching her.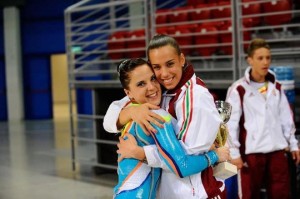 You do something else beside gymnastics? 
I finished University (Sciences of Sports) and now I work in the mornings, coordinating sports in my city.
 What are your goals for 2014? 
For 2014 I want to enjoy every competition. We have the World Championships this Summer and this is the most important competition  in 2014. I will try to compete in the best way possibly can. I am trying to achieve the state of mind and also my physical shape I had in 2012.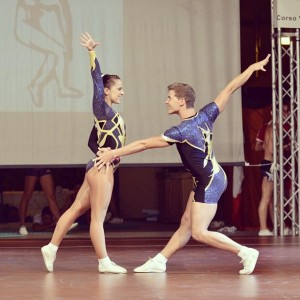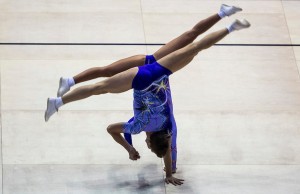 Special thanks to my contributor Ana Georgescu!