Dear friends, a new section of the blog – a series of interviews with great athletes!
I have Sandra Izbasa here with me … hmm what an honor! The first interview with such a great champion so near me, what can I say? I am lucky :). I'm glad to meet her, I'm glad to see that we have so much in common (we found out that we also look alike – so we were told) haha!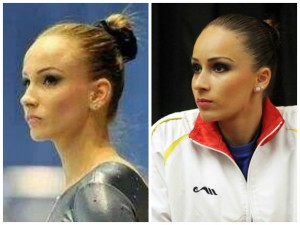 Without any further introduction, let's get to the facts.
           Why gymnastics?
Why gymnastics? Because my parents wanted me to practice a sport, not necessarily for performance, but so I could grow beautiful, harmonious and consumed all the energy that I had in a safe place, away from danger.
I can say that the gym was the third choice in a row, beacause in the first phase I was on a tennis field and I was not really attracted because at that time the racket was bigger than me, than I was in a fencing hall and i couldn't really understand what happens with that sword, I thought that if you get touched by it who knows what can happen to you … and I said no, let's try something else.
In an August day, haveing the age of four years and almost 2 months, together  with my parents we entered a gym. There we were retrieved by coach Lia Ceampelea who presented us a few things about gymnastics. What fascinated me the most was these girls that flipped over their heads. I spent an hour in the room to study and understand about what this is … then another coach came, named Corina Ibis, who checked me to see if I'll be able to practice this sport. She said that i am verry good, only that in a while I grow bigger than the other girls. She was right, she probably took a look at my parents also :). So I started in the initiation group being penultimate in the alignment.
Why gymnastics in this moment, because I made ​​the best choice at that age and it was the sport that fit me like a glove. I thank everyone for their trust and support!
         What is your most beautiful memory of childhood?
There are many beautiful memories that bind me to my grandparents, parents, school colleagues, the colleagues from the lot and the coaches, both the club and the people from the lot.
         Have you ever been "jealous" that other children spent their holidays playing,  while you were training?
  In this first phase at about 13-14 years yes, I was a little jealous because I too wanted to play in front of the building with my friends. Holidays … i'll have to say that the summer affected me the most, because i did not like winter too much, generally I do not like the cold, but in time, as my parents explained  me what it is and why we are part of the gymnastics  lot, I really understood: my childhood would be different. Other principles, other program, everything changed compared with normal children … i was not sorry even for a second, because I fructified every moment. I can say that I had my own star 🙂 and thank God for that!
         At what competition did you win your first medal? How did you feel?
I remember that a long time ago, the only two competitions that were organized, where the municipals and the national championship, for each category, from (cat. a 4a nu stiu exact cum se traduce…sunt cele mai mici gimnaste.. presupun ca juniors) to seniors. So, my first competition was the municipal championship, when I was 7 years old. There weren't awarded medals, but we were on second place, in the team competition. I won my first medal, just after I joined the Junior national team from Onesti, and participated to my first national championship, with the national team. That competition took place at Deva. It was individual and team competition, and finals for the seniors. From that time, I felt that feeling of success, and it made me confident, and willing to participate to more competitions.
         What were the competitions that you were most nervous?
The first competitions of the season. Can you believe it? After, you get used to it, and emotions are less. I like that my emotions, turn into constructive adrenaline.
         Were there things that you wanted to do while you were on te national team, but you weren't allowed?
Yes, there were many things that I wanted to do, but I wasn't allowed, because I was on the program of the camp, and I had to follow it. Everyone knows, that only by following that program of the camp, the results are good. I got used to that idea, that my everyday program was apart from the other children of our age. But my parents were always next to me, and offered me everything they could, so that I would feel good, and perform at the highest level. Don't think that we didn't do things that we weren't allowed, of course we did, because they made us feel children, every now and then. But that's another story…
          After the London 2012 Olympics, you took a break , what determined to you to get back to trainings?
 I took a break for about 1 month, where i travelled, and I felt awesome, because after all that tension, and stress….i felt that vacation like a big breath. After the Olympics, you don't recover that quick, and you have very good results, than it usually takes about a year. Why didn't I stay out for a year? Because, recovery would be infinite times more difficult. I decided to get back in the gym, because I was curious if I could cope with the new code of points. And i really liked that challenge, I guess this was what determined me to get back in the gym.
          What do you think about the new generation of Romanian gymnasts? Will they be able to fight with Russia, China and USA at the 2016 Olympics?
I believe in the new generation, and we must not forget, that in 2016 Diana Bulimar and Larisa Iordache, will be at their second major experience from their career. This will be very important for the smaller girls, because they will need support, and first of all, a strong team. I think that all teams have the same goal, to be on the highest place on the podium, that definitely includes us also, because we have always liked to be in the top.
          How is your life now? What are you up to, and what are your plans for the future?
 My life looks something like this: for the moment, I am take part in the project that ms.Mariana Bitang and mr.Octavian Bellu launched – "Relaunching Romanian Gymnastics" – and I can say that I am proud to be able to help in this project. Then, I have university: I am at the masters of UNEFS (Romanian Sports Academy) – Kinesiotherapy 1, and I am also in the army, lieutenant officer. In the future, I will take part on some projects there, also. In the meantime, i will take part in many activities, I am willing to try anything new. I will not leave the sport,i still exercise, and will always do, because it is part of my life.
P.S You said that one day you will invite me to your gym, and exercise together.
         When was the first time we met?
How we met….i remember we were talking through messages on the phone, and you supported me through the entire olympic year, and also after, in 2013, which really meant a lot to me. We first met in a mall in Bucharest, exchanged a few words, and you gave me a T-shirt that I really wanted for a long time. That's how we met face to face. Although we knew each other for a long time, I was happy that I could talk to you, and we became friends!! Give me a hug!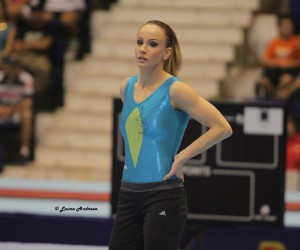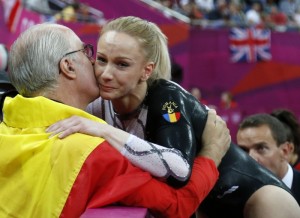 Special thanks to my contributors: Cristache Ionut & Carla Radulescu
ENJOY,
L.A.