Dear friends, today I will talk with Oana Corina Constantin, multiple national, international, european , world champion in AEROBIC GYMNASTICS.
Corina started gymnastics at 4 and half  and now she is component of National Team of Aerobic Gymnastics. Last year she won no less than 15 medals!!! 5 gold, 9 silver and one bronze becoming gymnast of the year in 2013.
How did to get into the gymnastics hall?
I wasn't thinking about being elite gymnast, I just wanted to spend my time and energy, elsewhere than the front of the block of flats, so my mother decided to encourage me to start a sport. First time, I entered the artistic gymnastics hall, because just like every other girl, I was watching gymnastics on the TV, and I wanted to do what Nadia was doing. Since I was quite tall for my age, coaches from the "Flamanda" gym, told my mom that it would be best for me, if I tried rhythmic gymnastics at CSS1 club, so when I was 4 years and a half, I entered for the first time a rhythmic gymnastics training hall, and since then, I fell in love with gymnastics.
Was passing from rhythmic gymnastics to aerobic gymnastics, difficult?
In the beginning it was really difficult, because I had already been in rhythmic gymnastics for 11 years, I had reached a very high level, after a lot of sacrifices and work, and in a way, I didn't want to start over, without being sure that I could have good performances. After a lot of discussions with my mother, I decided that the best choice would be to quit rhythmic gymnastics, since I had really serious problems with my back, and start aerobic gymnastics, since the back was not that much requested. In the beginning it was really difficult, performing strength elements, the intensity was of a huge difference, everything seemed to be harder but at the same time, easier, since there were no apparatus. Everything was different, although I didn't really like it in the beginning. After some time had passed, and I had already learned my first individual routine, I started having again the feeling that I was used to, from rhythmic gymnastics, being happy to enter the training hall again.
What is the most beautiful memory you have, from your childhood?
I have many beautiful memories from my childhood, regarding my parents, kindergarten,  school , gymnastics but I believe that most beautiful memories from my childhood  are from the time, when my mom, took me and my brother to the nursery school, he was in the group with bigger children that me. After lunch, everyone used to sleep, I was the only one that couldn't, because Bogdan (my brother) was not with me. I remember one day, I cried so loud, that my teachers, took me (I had my rabbit in my arms) crying, up to the 1st floor where the bigger children group was, and they put me directly in bed, next to my brother. I was saying that only if I was with him, I could sleep, and just when I realized that I was next to him, I stopped crying. This is for me one of my most beautiful memories, probably because he now lives in another country, and I really miss him.
What was the competition where you won your first medal? How did you feel?
I won my first medal at a rhythmic gymnastics competition that was held in Bucharest I think in 2000, I don't remember exactly, and I came 3rd in the rope event. I had gone just to participate, I really enjoyed to perform, and when I heard they called my name, to get on the podium, I couldn't believe it!! I was feeling so small among the rest, but in the same time, so proud to be living that small perfect moments.
Which of the medals you have won until now, is the most important for you (that means the most)?
One of the medals that mean the most to me, is the gold medal in the individual competition, I recently won at the World Games in Cali, Columbia. I was a medal I really wished for, because the gold medal I won at the 2011 Europeans, had made me wish to win the rest of the medals, from big competitions. Although this time, I didn't expect the gold medal, even though I really wanted to prove once more, that I am the best. I wished for a medal, because the World Games, was one of the most difficult competitions, because the competition started in the morning, with qualifications in individual women, trio and group, and after just 30min of break, finals started with group competition, trio and individual women. After the 2 silver medals we had successfully won in trio and group, I didn't think that I was strong enough to show what I am really capable of for the individual event. I remember, the final of my routine, the 6th routine of that day, and I was hoping to have at least the bronze medal. When I was on the panel my scores, and the 1st place, I thought it wasn't real. I was so happy, I felt that once again I am the best, I wanted to live every moment of it! And I did!
Are you pleased with the results you had in 2013?
For sure 2013 was one of my best competitional years of my career as a gymnast. I managed to win through the year, 15 medals that I won in World Cup Competitions, World Games and European championship, 5 of them are gold, 9 silver and 1 bronze. I have been working for this year, since I was little, and I don't have any regrets, I feel happy and accomplished, because all my hard work has paid off, through the medals I won, and all sacrifices I have made, were worth it!
What is the most difficult period of the year, regarding training ?
For me, the most difficult period is the training camp we have each winter, on the mountain. From the time I was a junior, I didn't like running on the mountain, in the snow. We start every year, with 10 days of camp in Poiana Brasov, having two workouts a day, and for me, that 10 days pass really slow. I wish, if I could, to enter the training hall and start with what I mostly like, and by that, I mean exercises and parts of the competitional routines. Of course that can't be done, because there isn't any athlete, in good shape, without the physical training, that must be done before. I can say that the period before competitions is quite difficult to me, because workouts are harder, for getting all elements to be perfect, and also achieve perfect, the artistic movements. And to all that, the stress before the competition is added, because all you want is to perform everything, as close to perfection, and here, the most important is to stay positive , physically tough, and one of the most important things is for the team to be united, as one.
The most beautiful experience you had from a competition was…?
All competitions are great experiences and unforgettable, even the competitions that are not so successful, there is always a nice experience, and from each competition you learn something, no matter if you lose or you win. I will never forget the experience I went through as a junior, at the European Championship in Szombathely, Hungary. I travelled there, having worked a single routine, for the group competition. While we were there, one of my colleagues from the trio category, got injured, and the trio could no longer compete. Since I was the only one, competing at a single event, and since I had learned some parts of the trio routine, the coaches from the national team, ms.Cristina Spinu and ms.Chiorean Ramona, decided that in the 2 days that were left until the start of the competition, I had to learn the trio routine. I didn't sleep at night, I continued rehearsing the routine, without stopping, and in the day of the competition, the only thing I had in my mind, was not to forget the routine. It was like a miracle, that we qualified for the finals in 4th place, and in the finals we came 3rd. I didn't even think that we could qualify for the finals, but at the end of the competition, I realized that although I had traveled there, with the goal of winning one medal, I was leaving, having won 2 bronze medals, one in group category and the other one in trio category. It was my first European Championship, and one of the most sudden and difficult competition until now, excluding World Games from Cali, in 2013.
Being also member of AEROS troop, what do you prefer: shows or competitions?
There are different experiences, between AEROS shows and gymnastics competitions, but I still say the same thing about how I live every moment. During competitions, you have that feeling of will, and emotions of each routine you compete, because you want to do everything as perfect as possible, to prove that you deserve to be the best and to be on the highest rank on the podium, you feel that suspense at the end of each routine, while waiting for the score and the rank you will be. In AEROS show, everything changes, it's all about passion and joy, a freedom in performing at the show, because everyone is watching you, and sees the most wonderful parts of the show, nobody looks for mistakes in order to penalize you, there are no judges, and it is not a competition. During the show, you only perform for yourself, because you feel the passion for it and you enjoy what you do for the public, but in the big competitions, you perform for yourself, for all the free time you have sacrificed for the trainings and for your work, for the coaches that trusted you, for the spectators that have come to watch you, and of course for the judges, that can't wait for you do make a mistake, so they can penalize you. I can say I like competing, and also be part of the AEROS shows, with the only difference that during the shows, I feel free, without the emotions I have during competitions, and thinking about not making mistakes, and the pressure from the competitions.
What are your goals for 2014?
For 2014, my main goal is the World Championship that will be held in Cancun Mexico that will take place in the end of June, to obtain at least the results I had at the World Games in Columbia, and add a medal, in the team competition. After that, I will take quite a long break, because I must focus on my studies in choreography, as this is my goal for the master's degree.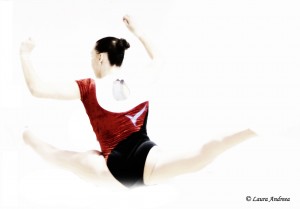 http://www.youtube.com/watch?v=vnNx-9M_jjM
Special thanks to my contributors: Carla Radulescu
ENJOY,